Going Beyond Google: The Workings of Strategic Insights
The amount of information available to us at a given moment seems endless. The World Wide Web offers limitless queries for gathering knowledge, insight, and perspective. When the need to research a topic comes up, it is often suggested that we 'Google it'. You have likely applied the Google method of fact-finding to many areas of life, such as how to fix household problems, what entails a heart-healthy diet, or where to find the best deal on a new television.
Google offers a venue where quick and dirty answers can be really helpful - some of the time. Other times, however, might require a different approach to gain ideas and solutions, especially for your company. A community of experts may be needed to provide you with the insights and peace of mind that come from people who have been there, done that, and found a way to work through it.
Collecting and Sharing Knowledge
Cayuse offers a proven way to quickly tap into leading research with the right expert network to give you and your business a strategic leg-up on the matters at hand.
Knowledge gathering provides tremendous resources for you and your business. Gaining inside information on the questions you have will allow you to overcome obstacles, plan your business strategy, and realign your goals - whatever they entail.
The first step is to understand your business needs, goals, and objectives. From there, we utilize a two-pronged research approach to deliver you the information your business requires to help achieve them.
Primary Research

– Cayuse has ready access to a database of 850,000 experts in industry, science, and technology. The experts are vetted and approved and engage in 60-minute real-time, direct interviews with our interviewers. Transcripts are the opportunity for you to review.

Secondary Research

– Cayuse conducts traditional methods of research across a wide variety of sources (such as periodicals, whitepapers, website and LinkedIn reviews, and financial reports) and supplies authenticity of the findings. A follow-up summation is provided.
From here, we develop executive summaries and action-oriented recommendations covering the primary and secondary knowledge points. Our findings are delivered to you in a presentation-ready format.
Service Level Package Options
Cayuse offers several options for your company's knowledge gathering needs. From scratching the service to digging deep into the industry, we work with you to determine the best approach, based on the information you are seeking.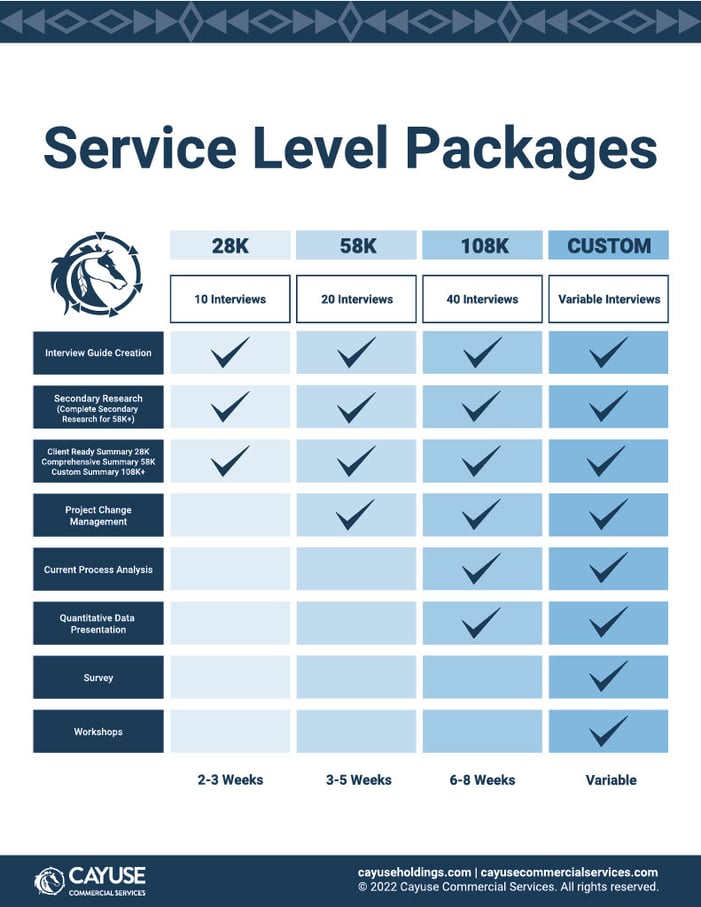 Unleash Your Limits
Gaining first-hand knowledge at the business level provides understanding, preparation, and confidence. Cayuse will acquire answers to your strategic questions, share industry insights, and help validate your thoughts on next steps. You will receive knowledge directly from the perspective and experience of professionals along with the assurance that comes from engaging in a broader community. Our experts will enlighten you and empower your business.